Liberian Youth Orchestra
"Transform Liberian Children Through String Music Education"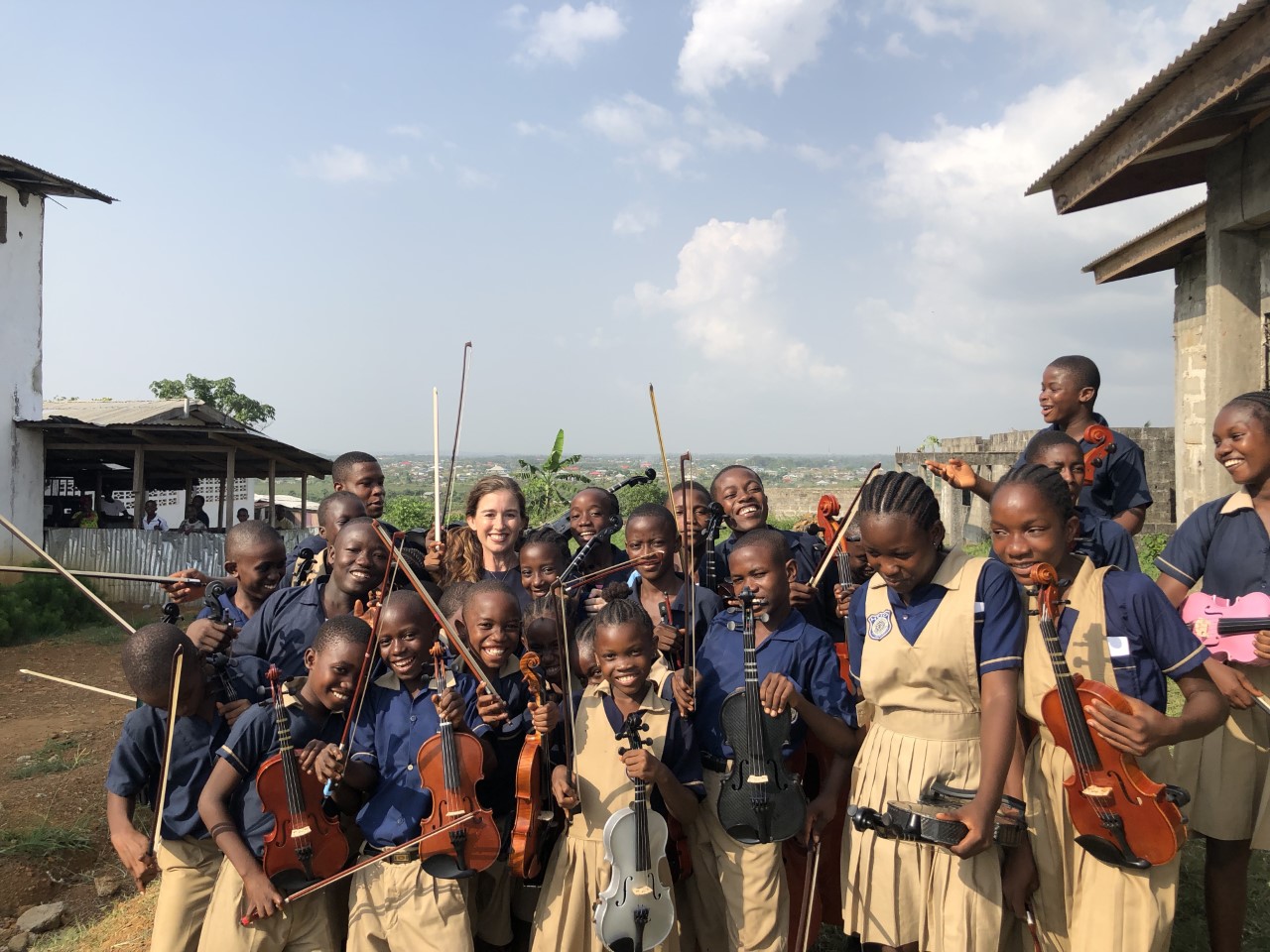 Before the Liberian Youth Orchestra (LYO) was established, there were no string music programs for children in Liberia until Julie McGhee (a violinist) and her husband first visited the country in 2013. Julie was immediately entranced by the Liberian children but was dismayed by the conditions in which they lived. When she returned 2016, she brought her violin with her and played for the children who attended four of our Change Agent Network Schools. They had never before heard a stringed instrument, and their faces lit up with delight. From this moment on, Julie has actively partnered with us to bring hope and a future to underserved Liberian children through music education. With her help and others, we began to fundraise in earnest.

In January 2018, we introduced the LYO project to Shar Music in Ann Arbor, Michigan. Shar not only donated twenty violins and five cellos but also helped promote the LYO project at the American String Teacher Association Conference. It wasn't long before we received another major donation of a carbon fiber violin from Glasser Bows New York, as well as gifts of music, music stands, instruments, and financial support from music teachers, string students, and generous people all across the United States.

Two months later, we received a shipment of everything we needed to launch our music program! It took five more months to secure a duty-free privilege status on the shipment, but finally, due to the intervention of the Honorable Jewell Howard-Taylor, Vice President of Liberia working on our behalf, it was obtained. Since then, she has been a valuable ally in so many ways! We had no idea that string music would play such an important role in the lives of Liberian children. But God knew.
Watch the video of the Orchestra's history
On November 12, 2018, the LYO project debuted in our mother school, Heart of Grace School located in City View, Jacob's Town Rehab Community in Lower Johnsonville, Montserrado County, Republic of Liberia. It didn't take long for our students to play symphonies and melodies composed by the world's greatest musicians.

The first graduation concert of the Liberian Youth Orchestra held on July 07, 2019 was nothing less than spectacular! LYO students have since been invited to play at numerous events including the dedication of the new Ministerial Complex on July 25, 2019 and the 172nd celebration of the Independence of Liberia on July 26, 2019.

Due to our successful program, all 11 girls in the Liberian Youth Orchestra received full scholarships for the 2019/2020 school year from the Jewel Starfish Foundation (JSF). This is a huge blessing to these families and a wonderful motivation for these girls to continue to work hard. JSF has also provided scholarships to more than 20 additional female students from the AAA School in Gbarnga, Bong County, Central Liberia. The news is very encouraging for us because it demonstrates our first high-profile tangible support and partnership with or from any top government official of Liberia! In addition, the male students in the LYO Program and the AAA School Choir, all received scholarships for this academic year 2019-2020 from Eve's Grace Scholastic Initiative, a program founded by MaKebeh G. Sando, a native of Liberia, West Africa who always had a lifelong fascination for education – for both herself and others.
I have been teaching violin and cello for 21 years, I have been (and am currently) serving as String Director at Plymouth Christian Academy for 14 years. My first trip to Liberia was in 2013. I not only fell in love with the children, but also was extremely burdened with their plight. I brought my violin to Liberia in 2016 and had the opportunity to play the Liberian national anthem in front of the Liberian Senate twice. I was also introduced to Change Agent Network and had the wonderful experience of playing my violin at four different schools, and watching children who had never seen or heard a violin, light up as I played.
Click the donation button below to donate now towards this worthy cause:
Thank you so much for your donation. We are so very grateful!
NOTE: Unless specifically noted in the checkout process of your donation, all donations will go to the program with the most urgent need. So, please specify LYO in the memo section of your check. All checks should be made payable to Change Agent Network, and mail to Change Agent Network, Inc. 10000 North Central Expressway. Suite 40, Dallas, Texas 75231.
More videos of the Orchestra